OLED's (Organic Light Emitting Diodes) had a great year in 2015, even with the LCD over-supply (and lower prices). Shipments were up over 53% over 2014, according to The OLED Association. And the trend is expected to continue for 2016.
So where can OLED's be found now or in the future?
The most common application for now is smartphone displays. But it's not the one that gets everyone excited, that would be OLED TV's. But OLED's can also be used in tablets, wearables, monitors, laptops, automotive displays, industrial displays, cameras, home appliance displays, and lights. The key benefits to using an OLED display instead of other technologies (like LCD):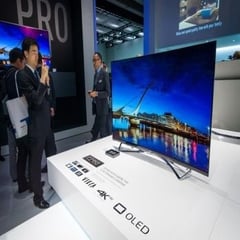 Greater brightness and a fuller viewing angle
Lower power consumption
Faster refresh rates and response times
Exciting form factors, like ultra-thin, flexible or transparent displays
But OLED's are notoriously sensitive to water and displays are susceptible to both water and oxygen. That's where Dynic's HG Sheets come in. These peel-and-stick sheets require no bake-out time and absorb a fixed amount of moisture with no out-gassing.
While HG Sheets have been used in OLED's for years, we are now expanding their use into newer applications, like OPV's (organic photovoltaics or solar cells) and implantable devices. Contact Mindy@dynic.com to find out which HG Sheet would work best in your specific application.